WHY CHOOSE AMAZING PERU?
View to be inspired...
TRAVEL VIDEOS
Luxury Peru Travel & Machu Picchu Luxury Tours Videos. View our best selection of videos here:
Hiram Bingham Luxury Train to Machu Picchu
The Salkantay Journey to Machu Picchu
"Wrapped" Gloria Stefan Video is the first single from her tenth studio album Unwrapped. The single returned the commercial success to Gloria and was filmed in Machu Picch, Peru. Enjoy the English and Spanish versions here:
Gloria Estefan - Wrapped (English)
Gloria Estefan - Hoy (Spanish)
Explore the Galapagos Island with Google Maps
Iguazu Falls Visit by Roger Federer World Tennis Player
Tara Hitchcock, PhoenixWoman of the Year:
HER PRIDE AND JOY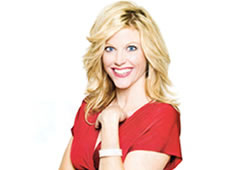 While Hitchcock has accomplished a great deal in her career, her greatest joy took place outside the newsroom— meeting her husband Kenn Francis early in 2002. The two began dating later that year, and the courtship led to a suprising marriage proposal on Father's Day, 2004: Francis and his three children from a previus marriage all got down on their knees and proposed. The kids also accompanied them on their Australian honeymoon.

"The kids are great," says Hitchcock. "It's kind of beyond abnormal. You can never give kids too much love; they have three people who adore them and how can that be bad?"

In addition to the joys of a loving family, Hitchcok's other passions include photography and traveling the world. "My pride and joy in life are my photos," she says. "I live for taking pictures. It gets annoying for the kids and my husband as I'm asking people to take pictures of us from the back— but I've made a ton of scrapbooks."

Always eager to try new things and explore the unknown, Hitchcock has traveled to many destinations including Peru, Australia, Italy and the Bahamas. It's on these whirlwind adventures that she collects her notorious rock band t-shirts such as the Red Hot Chili Peppers shirt her fans are constantly catching her in. "I love to travel," she says. "If I have no money, I will figure out a way to get there. If that means only going to Europe for two days, I will make that flight!"

With a successful career, a new family and worldly travels, just one sentence is all this newscaster needs to sum up her career: "I get paid to tell stories and hang out with my friends—that is my life."

Source: Tara Hitchcock

Amazing Peru on USA TV
The Great Amazing Peru Inca Trail adventure as filmed and reported by Tara Hitchcock for Arizona TV. Click here to watch the video! High speed connection recommended.

Video N° 1

Video N° 2