Luxury Peru Gourmet Tour
A fabulous Gourmet tour of discovery through Peru combining cooking classes with tours to the highlights of Peru. All accommodations are in 5 star with private tours with creative cooking classes introducing such wonderful dishes as ceviche, rocoto relleno and aji de gallina.
Lima - Arequipa - Colca Canyon - Cuzco - Machu Picchu - Nazca - Ica
11 days / 10 nights.
Watch cooking class video

ITINERARY
Day 1: Lima
Arrival to Lima, reception at the airport and transfer to the 5* Country Club Hotel.
Day 2: LIMA (B, L & D)
After breakfast, we shall visit a market to see the huge variety of fish, shellfish and other coastal produce which has lent Lima the name of gastronomic capital of South America. We shall also have an opportunity of seeing the vast range of vegetables, fruits, cereals and other food products from all the regions of Peru.
We shall then visit the kitchens of one of the best local seafood restaurants in Lima to witness firsthand the preparation of the famous national dish of Peru, Ceviche. This raw fish dish is marinated in the ubiquitous Peruvian lime and is served with sliced chill peppers. After this mouthwatering presentation, we shall enjoy a delicious lunch at the traditional Peruvian restaurant, Senorio de Sulco. After lunch a guided visit of colonial and modern Lima, including the cathedral, dating from 1654, the main square, which still houses the original bronze fountain built in 1650, and the San Francisco Convent and its catacombs. Known as the city of the kings, Lima was founded in 1535 by Pizarro and rebuilt in 1991, the same year that UNESCO declared it a world heritage site. One of the very few South American cities that preserve the colonial past, Lima was home to the Spanish viceroy during the time of the Spanish colonialists.
Return to your hotel before dinner at the Huaca Pucllana Restaurant. Located within an actual pre-Inca archaeological site and next to a 1500 year old adobe pyramid, the food here is exquisite and the sommelier will help you choose amongst your personal favourites or some Chilean and Argentinean classics. Return to your hotel.
Meals: B, L & D
Day 3: LIMA - AREQUIPA (B, L & D)
Morning transfer to the airport for the flight to Arequipa, the most beautiful city in Peru. After the two-hour flight, reception and transfer to the 5* Libertador hotel. Arequipena cuisine is widely regarded as one of the best in Peru with its "rocoto relleno" (stuffed pepper), the emblematic dish of Arequipa. In addition, there is an amazing variety of "chupes" (a type of chowder which varies according to the day of the week) and the famous Sunday "adobo" (marinated pork).
After lunch at one of the best restaurants in Arequipa, you will enjoy a guided tour of the white city, so-called because many of the buildings are made of volcanic sillar. Visiting the Chilina valley and the old San Lazaro district with a general view of the city from the Yanahuara Belvedere. There are marvellous views including the imposing Misti Volcano overlooking the city. A visit to the Plaza de Armas and its Cathedral, the cloisters of La Compañía Church, the Church and Square of San Francisco and the extraordinary Santa Catalina convent which is built from volcanic lava and dates from the 16th century. A visit will also be made to the museum to see Juanita, the finest preserved mummy in South America. Return to your hotel. Dinner in the evening overlooking the splendid main square.
Libertador Hotel | Meals: B, L & D
Day 4: AREQUIPA - COLCA CANYON (B, L & D)
After breakfast, early departure in private transport passing the thermal baths of Yura and climbing up towards the National Reserve of Pampa de Cañahuas at 3800m. Here groups of alpacas, vicuñas and sometimes-even guanacos can be seen. After driving several hours more, the descent to the Colca Valley begins. On the way, if time permits, you shall visit some caves to see prehistoric drawings before arriving at Callalli, where huge rock formations resembling medieval castles are found and onward to Sibayo, a small village with a primitive church, on the Colca River. The trip continues down the valley, passing next to several villages until you arrive at Chivay, the most important town of the valley. Accommodation at the newly opened Las Casitas Del Colca Lodge, the new luxury lodge by the Orient Express chain and set in the Colca Valley itself. This will be your accommodation for the next two nights.
After check in to your casita (private lodge), a delicious lunch utilising the fresh organic produce from the garden with some local delicacies. In the afternoon, we will commence our cooking lessons focusing on local regional cuisine and also try our hand at some Pisco sour lessons (the signature drink of Peru). Dinner at the lodge.
To make your stay of the utmost comfort, your casita comes complete with a private terrace from where you can appreciate the wonderful landscape, a heated plunge pool and an outdoor shower. You may also relax in the hotel swimming pool or enjoy spa treatments at the Samay Spa (extra cost).
Las Casitas del Colca Lodge | Meals: B, L & D
Day 5: COLCA CANYON (B, L & D)
After breakfast an early departure to descend into the valley to visit some of the villages, all of which have beautiful, colonial-style churches. You shall also see the Inca terraces, some of which are still in use and can be seen all along the valley. Return to your lodge at Las Casitas Del Colca in the Colca Canyon for a delicious a la carte lunch. We shall continue our cooking lessons with locally caught fish or if you prefer, leave the kitchen today and embark on some fly fishing yourself and let the chef prepare your catch . A la carte dinner in the evening.
Las Casitas del Colca Lodge | Meals: B, L & D
Day 6: Day 6. COLCA CANYON (B)
After breakfast, start the ascent up to the Cruz del Condor, a few kilometres before Cabanaconde. Here one can appreciate a fine view of the flight of the condors as well as of the depth of the canyon.
Return to Arequipa in the evening.
Meals: B
Day 7: AREQUIPA - CUZCO (B, L & D)
After breakfast, transfer to the airport for your flight to Cuzco, the ancient Inca capital of the Incas. After the one hour flight, reception and transfer to the Monasterio Hotel. After a recommended light lunch in the award winning hotel restaurant, a private guided tour of Cuzco including the Cathedral, Qoricancha temple, the Inca fortress of Sacsayhuaman overlooking Cuzco, Qenko and Puka Pukara. Return to the hotel. Dinner in the El Tupay Restaurant. On Saturdays a folkloric music show will accompany your dinner.
Monasterio Hotel | Meals: B, L & D
Day 8: CUZCO (B)
After breakfast, free morning at leisure to visit the local shops and art galleries. In the afternoon, you will head over to the Yanapay Restaurant for your cooking class. Each item on the menu is extremely authentic.
You will learn various cooking styles and traditional foods with a cooking professor. The professor will also help you translate the recipes home to remake these items whenever you want to remember Peru! The Menu you will make will be as follows:

2 Appetizers: Papa a la Huancaina (Peruvian potatoes with a cheesy sauce) Causa Limeña (Mashed Peruvian yellow potatoes with veggie/chicken fillings)
4 Entrees: Ceviche (Famous Peruvian raw fish dish!) Aji de Gallina (Chicken in a yellow hot pepper sauce) Lomo Saltado (Beef, tomatoes, and onions in a stir-fry sauce with Peruvian hot peppers) Rocoto Relleno (Stuffed Peruvian Red Peppers from Arequipa)
2 Desserts: Arroz con Leche (Rice in sweet cream) Picarones (Fried Donuts with Honey).

Dinner in the evening on your own (not included).
Meals: B
Day 9: CUZCO - MACHU PICCHU - CUZCO (B, L & D)
Enjoy a good night's sleep before your private transfer at 8AM to Poroy, a short distance from Cuzco. Boarding of the luxurious Hiram Bingham train to Aguas Calientes. This Orient Express train is the most exclusive way to visit Machu Picchu and includes a hearty brunch aboard the train. Guides will also be available to answer any questions. Arrival to Aguas Calientes before boarding the bus for the short ride up to Machu Picchu, the ancient Inca citadel.
Shortly after, a guided tour of Machu Picchu, the most spectacular ancient city in the world. Built by the Inca Pachacutec, and comprising stone blocks fitted with masterful precision, Machu Picchu harmoniously blends into the mountain landscape. There are many theories as to the origins behind Machu Picchu but three of the most popular ideas include a temple to the sun, a fortress against the jungle inhabitants or a sanctuary for the Incas. This fabulous city has houses, temples, warehouses, a large central square, all connected by narrow roads and steps, and is surrounded by terraces cut into the mountain side which were used for agriculture.
Return to Aguas Calientes by bus. Some free time to visit the colourful town and market before boarding the Hiram Bingham train in the early evening. Return in style, converse with your fellow passengers and guides and enjoy cocktails followed by a four course dinner. Reception and transfer to the Monasterio hotel for your final night in Cuzco.
Monasterio Hotel | Meals: B, L & D
Day 10: CUZCO - LIMA - NAZCA - ICA - NAZCA (B, L & D)
After breakfast, transfer to the airport for the flight back to Lima and private transfer south to Ica, and to the Hacienda Tacama. Housed in a 16th-century colonial hacienda, this winery, one of the largest producers in the region, is known internationally and exports its Pisco and wines to a number of countries. The Olaechea family has owned the winery since 1889. Despite the farm building's age, it is one of the oldest in the valley, the bodega uses modern technology. The vineyard is still irrigated by the Achirana irrigation canal built by the Incas. A tour of the vineyard followed by lunch before continuing on to Nazca and accommodation at the Cantayo Hotel & Spa. Relax from the long day before a light dinner at the hotel.
Cantayo Hotel & Spa | Meals: B, L & D
Day 11: NAZCA - LIMA (B)
Before breakfast, a flight tour over the enigmatic Nazca Lines; gigantic drawings and geometrical figures engraved in the driest desert of Peru and dating back to 250 AD. Drawn throughout over 1000 Km2 of desert on the Pampas of San Jose in Ica, and due to their enormous size and largely unknown origin, leaves an indelible impression on all who visit this most mysterious archaeological site. With representations of animals, such as a spider, a monkey and several birds, they are believed to be an enormous astronomical calendar or possibly an offering to the gods. First discovered in 1550 it was not until the advent of flight, in the 1920's, that the lines were first realised for their significance. The drawings are not in actual desert sand but on small rock debris, varying in length from 150m to 300m and with a depth of 20cm. Return to the hotel for breakfast before returning to Lima. Enroute, we shall visit the Oasis of Huacachina, a natural oasis in the Peruvian Desert and marvel at the incredible sand dunes. Fresh fruit and some delicious canapés will be provided for the return trip. Returning to Lima you will have leisure time for some final shopping or an early dinner (not included) before transferring to the airport for your return flight home.
Meals: B
End of services
Luxury Peru Gourmet Tour Itinerary Overview: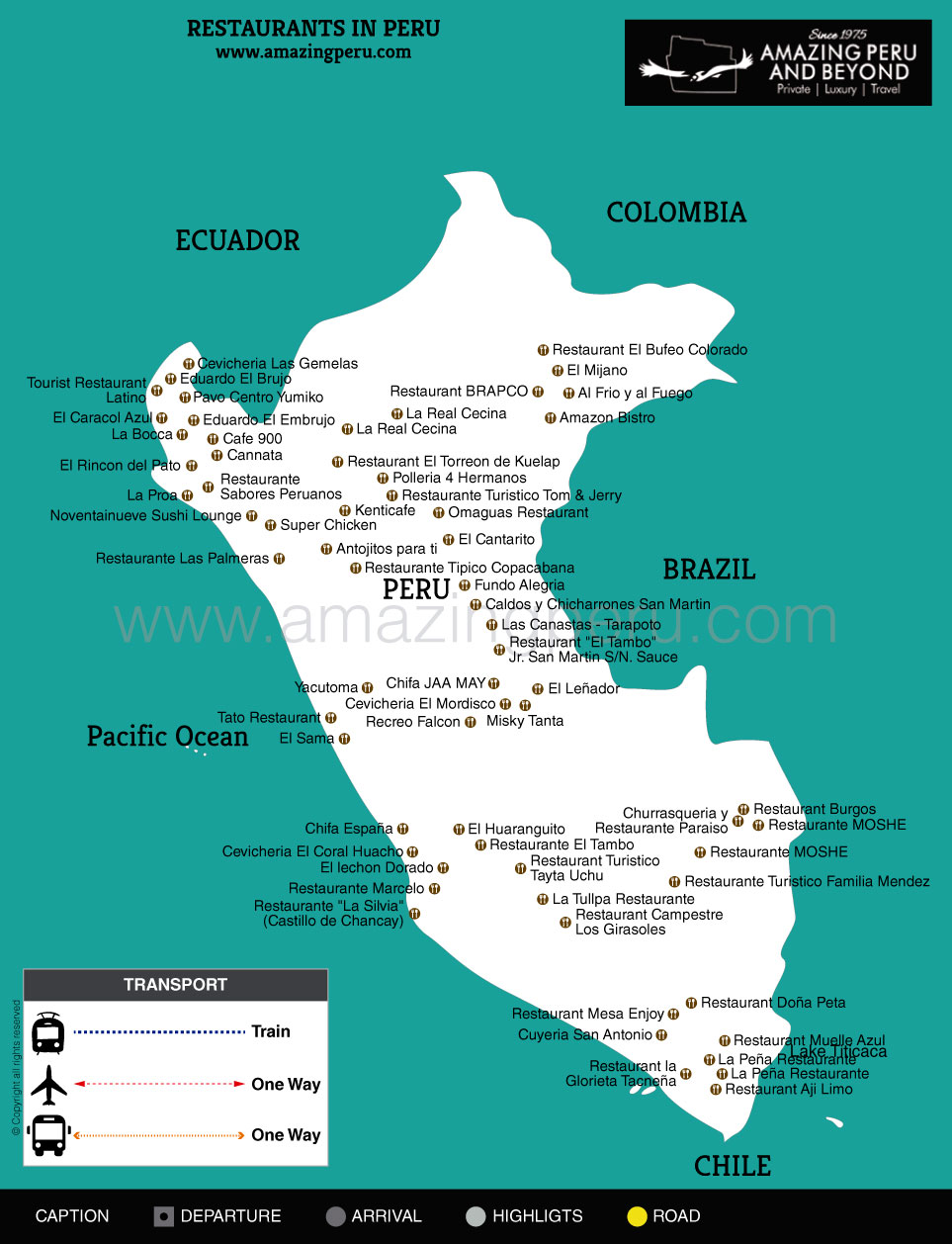 PRICES:

Please Contact Us Here
Credit Cards Welcome:



WHAT IS INCLUDED / NOT INCLUDED
OUR LUXURY HOTELS SELECTION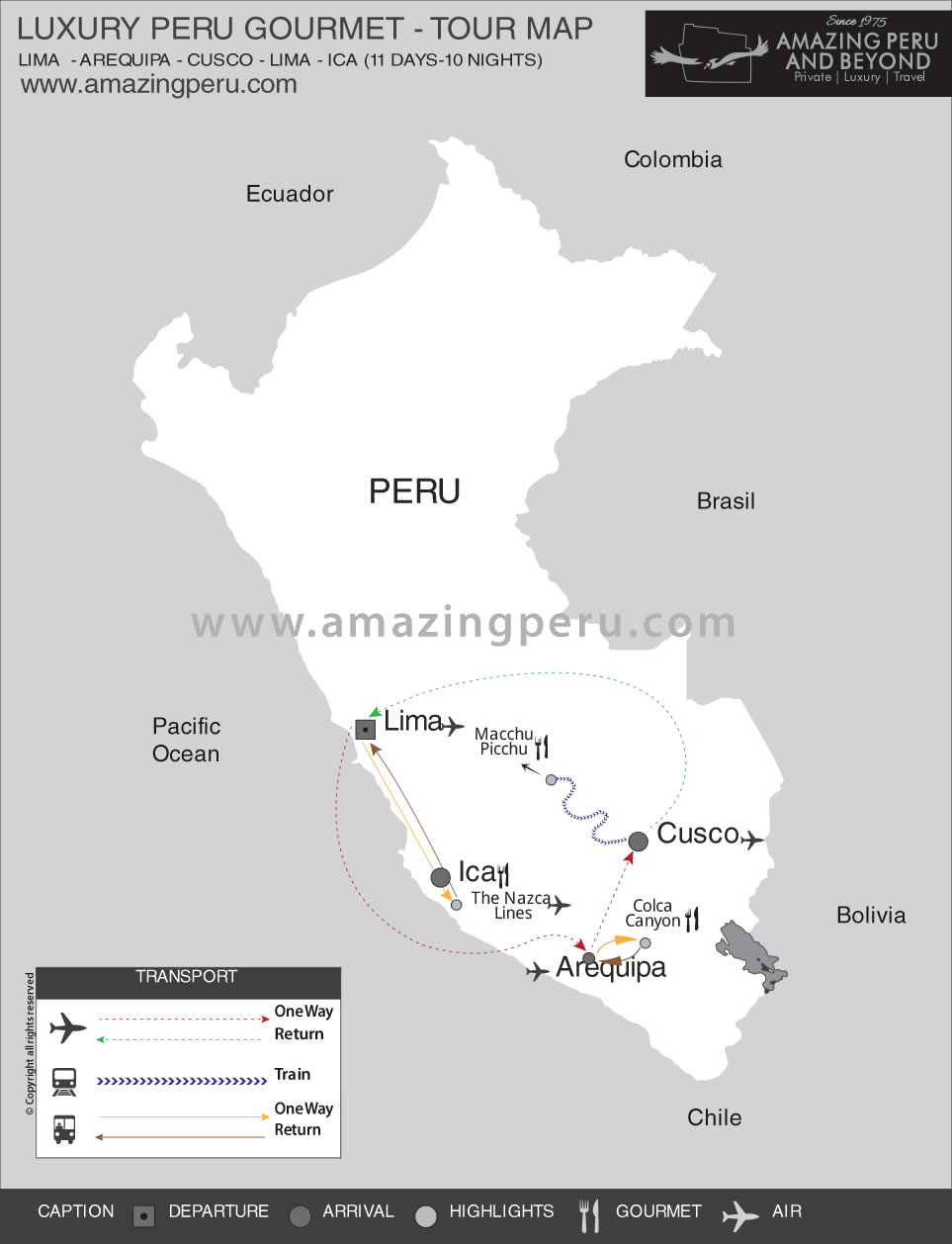 Luxury Peru Gourmet Tour
Lima - Arequipa - Colca Canyon - Cuzco - Machu Picchu - Nazca - Ica
11 days / 10 nights.
For current availability contact us at
info@amazingperu.com
and we will send you the relevant trip dossier along with a 90 day fixed quote, terms and conditions. Please bear in mind that significant price reductions are available for groups. All our Luxury Tours are fully private and depart daily. Contact us for more information regarding the above tour, or to begin customizing your own itinerary.
"Well-run multipurpose agency, with several offices in Peru with an extensive roster of trips, from family and honeymoon to luxury trips..."
Frommers Guides 2023
"Highly recommended, professional and well-organized, 'perfect tour', knowledgeable guides"
Footprint Handbook 2023
"Transportation services and accommodations are top-notch, and the guides are flexible and extremely helpful"
Fodor's Guides 2023
"
Amazing Peru
has more than 20 years of experience in the travel industry. Tours to Machu Picchu can be customized to include airfare, all meals, accommodations and travel insurance, and last from six to 14 days. Amazon cruises, horseback riding, river rafting, hiking and biking throughout Machu Picchu, Cuzco, Sacred Valley, Lake Titicaca..."
USA TODAY
"Move Over, Machu Picchu - How disabled travelers can tour Machu Picchu."
Christoper Reynolds
"Looking for an adventure of lifetime to kick-start married life? Consider these honeymoons with a difference… "
Perfect Wedding Magazine
"Experience"
Amazing Peru is the leading company in Latin America that combines exclusivity, luxury and authenticity for Peruvian holidays. It will tailor a 15- days tour for you that takes in Lake Titicaca, the Sacred Valley, Machu Picchu, Lima, Cuzco, Colca Canyon and the Amazon rainforest."
The Travel and Leisure Magazine UK
"A reputable firm with an impressive variety of unique excursions… "
At Home and Away with Alan Whicker CBE Magazine
Spend Christmas on a guided tour of breathtaking Machu Picchu and visit famous Lake Titicaca. Amazing Peru offers luxury Christmas vacations in Machu Picchu along the Inca Trail...
Trails Outdoor Travel Guide
"Amazing Peru takes families on both luxury and affordable tours throughout Peru. Children 12 and older are welcome to come along on the 12-day Peru Family Adventure Tour. Raft, backpack, kayak and bike through some of Peru's most unforgettable sights including Machu Picchu. The Family Tour to Peru is tailored for children younger than 12 years of age with an educational component. Relax on Peru's northern beaches, explore the high-altitude Lake Titicaca, trek through the Amazon, and visit Machu Picchu on this 16-day journey. Check out Amazing Peru's 12-day Family Tour."
Global Post USA
"
You can fly over Machu Picchu - or take a helicopter ride
Who needs hiking when you can fly? The company Amazing Peruoffers hour-long flight tours right over the Sacred Valley of the Incas. The plane fits a minimum of eight passengers, and it can also be chartered. Passengers fly over Tipon and Pikillaqta, both archaeological sites, Pisaq and the Urubamba Valley, Sacsayhuaman, and, of course, Machu Picchu itself. Flights can be longer or shorter as requested. "
"
You can Om your way through Machu Picchu
Machu Picchu is known as one of the most spiritual lands in the world, so why not go all out and Om your way through its ruins? Amazing Peru offers a seven-day yoga tour where visitors travel from Lima to Cuzco and finally to Machu Picchu, where they stay in the famed sanctuary Lodge hotel right outside of the ruins. They participate in multiple meditation and yoga sessions throughout the trip, but the highlight is a private session smack-dab in the middle of the ruins. Now that is an Om experience worth waiting for."
Yahoo Lifestyle
A Private, customized tour to Venezuela, Guyana, Suriname, French Guiana and Trinidad & Tobago. "Any traveler with a well-developed sense of adventure will be rewarded with an incredible experience on this journey to a birding paradise designed and operated by Amazing Peru."
"Savoring a taste of Uruguay's acclaimed wine region - An outstanding experience"