Peru & Galapagos Tour 5 Adventure Honeymoon
An incredible Honeymoon Tour to Peru & The Galapagos Islands in 3 different trip styles. With budget, premium and luxury accommodations and yachts to choose to choose from, visit the highlights of Peru with a cruise around the Galapagos Islands. This fabulous Honeymoon Vacation is a perfect combination of culture, adventure, discovery and romance for the discerning traveler.
Lima - Cuzco - Machu Picchu - Urubamba - Ollantaytambo - Quito Galapagos Islands
13 days / 12 nights.
ITINERARY
Day 1. LIMA
Arrival to Lima, reception at the airport and transfer by private vehicle to your hotel. Flowers and fresh fruits will await your arrival.
Day 2. LIMA B, L & D
After breakfast, a guided visit of colonial and modern Lima starting at the famous Love Park, overlooking the majestic Pacific Ocean where Lima's couple often congregate along with newlyweds taking their wedding photographs. The tour continues to the Cathedral, dating from 1654, the Main Square, which still houses the original bronze fountain built in 1650, and the San Francisco Convent and its catacombs. Known as the city of the kings, Lima was founded in 1535 by Pizarro and rebuilt in 1991, the same year that UNESCO declared it a world heritage site.
We shall then visit the Bohemian capital of Lima, Barranco where we will enjoy lunch at the Al Grano restaurant before visiting the adjoining private museum, the Palacio de Osma. The museum focuses on colonial Peruvian art from areas that were among the most distinguished cultural centers of the day, including Cusco, Arequipa, and Ayacucho. Return to your hotel where you will both indulge in a relaxing massage. This will be followed by a romantic dinner for two at the Hacienda Moreyra restaurant in Lima, set in a beautiful colonial house. Return to your hotel.
Meals: B, L & D
Day 3. LIMA - CUZCO B,D
After breakfast, transfer to the airport for your flight to Cuzco, the ancient Inca capital of the Incas. After the one hour flight, reception and transfer to your hotel. After a recommended light lunch (not included), a guided walking tour of Cuzco including the Cathedral, Qoricancha temple, the house of Garcilaso de Vega, the Inca chronicler and finally the Inca Museum. Return to your hotel. Dinner at a local restaurant.
Meals: B & D
Day 4. CUZCO - MACHU PICCHU (B & D)
Enjoy a good night's sleep before boarding the Vistadome train to Aguas Calientes. Arrival to Aguas Calientes, assistance with your luggage and check in to your hotel. You shall then board the bus for the short ride up to Machu Picchu, the ancient Inca citadel. A guided tour of Machu Picchu, the most spectacular ancient city in the world.
Built by the Inca Pachacutec, and comprising stone blocks fitted with masterful precision, Machu Picchu harmoniously blends into the mountain landscape. There are many theories as to the origins behind Machu Picchu but three of the most popular ideas include a temple to the sun, a fortress against the jungle inhabitants or a sanctuary for the Incas. This fabulous city has houses, temples, warehouses, a large central square, all connected by narrow roads and steps, and is surrounded by terraces cut into the mountain side which were used for agriculture. Free time at leisure before returning to your hotel for dinner and accommodation.
Meals: B & D
Day 5. MACHU PICCHU - CUZCO (B & L)
Early opportunity to return to the site and enjoy a wonderful sunrise over Machu Picchu and time for some private reflection. Today no guide is provided as we feel that Machu Picchu requires a certain amount of self discovery to be fully understood. Take any of the several paths around various parts of the site (we will provide a map to help you), trek up to Wayna Picchu or walk down to the Inca's bridge. Let Machu Picchu unfold all its mysteries for you, take in the breathtaking cloud forests and jagged mountains, or marvel at the extraordinary Masonic precision of the ancient Incas. Either way, your day of self discovery will be a day never to be forgotten. Lunch at the Sanctuary Lodge before returning back down to Aguas Calientes by bus. Some free time to visit the colourful town before boarding the return train to Cuzco. Transfer to your hotel.
Meals: B & L
Day 6. CUZCO - URUBAMBA - OLLANTAYTAMBO (B & L)
After breakfast, a private full-day excursion to Urubamba, the sacred valley of the Incas and to the ancient Inca market town of Pisac. A visit to the market before exploring the ruins above Pisaq. Enjoy a delicious picnic lunch in the Urubamba Valley. After lunch, a visit will be made to Ollantaytambo, the only Inca town that was not defeated by the Spanish and a chance to explore the ruins before returning to your hotel in Cuzco.
Meals: B & L
Day 7. CUZCO - LIMA - QUITO (B)
After breakfast, transfer to the airport for the flight to Lima and onward for the connecting flight to Quito Ecuador. Arrival in Quito, reception and transfer to your hotel.
Meals: B
Day 8. QUITO (B & D)
After breakfast, a visit of colonial Quito, declared by UNESCO as a world heritage site in 1978. A visit to the Old Town, including the Plaza de la Independencia; as the President still conducts business here, access to the inside may be limited. It is also the home of the tomb of Sucre and houses interesting 17th and 18th century paintings. A visit to the Parque Alameda that houses the oldest astronomical observatory in South America, as well as an impressive monument of Simon Bolivar.
The Plaza de San Francisco which was constructed by the Spanish in 1553 has a high altar made of gold and beautifully carved ceilings. You shall also visit La Compañia, the finest of all Jesuit churches, which although damaged through the years by fires and earthquakes, has since been restored and has a richly sculptured facade and interior.
If time, we will visit some of the markets including the Indian market at Avenida de 24 de Mayo at the base of El Panecillo and the Ipiales market. These are best visited on Wednesdays and Saturdays, the main market days. Dinner at Teatrum, perhaps the best restaurant in Quito.
Meals: B & D
Day 9. QUITO - GALAPAGOS ISLANDS (B, L & D) (Galapagos Itinerary subject to change)
After breakfast, transfer to the airport for the flight to Baltra on the Galapagos Islands. You will be met at the airport for the start of your Galapagos tour aboard your yacht. A visit to the second largest island in the Galapagos, Santa Cruz. With six different zones of vegetation: Coastal, Arid, Transition, Scalesia, Miconia, and Pampa Zones. The Charles Darwin Research Station and the Galapagos National Park offices are also based here. The station is also a tortoise breeding centre, where tortoises of different species are prepared for reintroduction to their natural habitats. The most famous inhabitant is probably Lonesome George, the only survivor of this specific turtle species. The lush green scenery of the Santa Cruz highlands is a welcome contrast to the aridity of the lower islands.
Meals: B & D
Day 10. SANTIAGO ISLAND - PUERTO EGAS - RABIDA (B, L & D)
Today, a visit to Puerto Egas on Santiago begins with a wet landing on the dark sand beaches of James Bay. The visit begins with a walk along the rocky coast giving visitors the opportunity to view some of the Galapagos Island's best tidal pools. Sponges, snails, hermit crabs, barnacles and fish including the endemic four-eyed blenny can be seen. The walk also presents visitors with a variety of shore birds, marine iguanas, sally light foot crabs and sea lions. In the afternoon, a trip to the beach of the small volcanic island of Rabida. A small path will lead to a small lagoon populated with flamingos.
Meals: B, L & D
Day 11. TAGUS - VINCENTE ROCA (B, L & D)
A visit to Tagus Cove located off the west coast of Isabela Island. After a dry landing we can climb up the trail to oversee Darwin 's Lake. This is below the slopes of Darwin Volcano and is, surprisingly, a salt water lake above sea level. It is said that the salt water is drawn up from below by adsorption through the porous volcanic rock of which this part of the island is formed. The trail also has a monument to a sailor who was lost at sea and there is a large amount of graffiti carved into the rock sides of the cove. The steep cliffs of Tagus Cove bare the names of many of the whaling ships, which hunted in these waters. To the west point of the northern tip of Isabela, lies Punta Vicente Roca, the remnants of an ancient volcano which has formed two turquoise coves with a bay protected from the ocean swells.
The spot is a popular anchorage from which to take a panga ride along the cliff that are the remains of the volcano or explore a partially sunken cave at the water's edge.
Masked and blue-footed boobies sit perched along the point and the sheer cliffs, while flightless cormorants inhabit the shoreline. The upwelling of coldwater currents in this part of the Galapagos, give rise to an abundance of marine life which, in combination with the protection of the coves, make Punta Vicente Roca one of the archipelago's sough after dive spots. One cove is only accessible from the sea by way of an underwater passage. The passage opens to calm waters of the hidden cove where sea lions like to laze on the beach having traveled along the underwater route. The entire area of Punta Vicente Roca lies on the flank of the 2600 foot Volcano Ecuador. This is the Galapagos Island's sixth largest volcano. Half of Volcano Ecuador slid into the ocean leaving a spectacular cutaway view of the volcanic caldera.
Meals: B, L & D
Day 12. BARTOLOME ISLAND - NORTH SEYMOUR (B, L & D)
Before breakfast, we disembark at Bartolome Island for a hike to the summit and a spectacular panoramic view. Later there will be a chance to snorkel with Galapagos Penguins. Continue on to Sullivan Bay, a white coral sand beach and begin your walk over lava that flowed less than 100 years ago. This is the perfect place to see and feel the volcanic origin of the Galapagos. Return to the yacht and head towards North Seymour, an uplifted island which used to be on the ocean floor. Afternoon trip to North Seymour observing bird colonies of blue-footed boobies, frigate birds, and also sea lions and marine iguanas.
Meals: B, L & D
Day 13. LEON DORMIDO - QUITO (B)
A visit to Leon Dormido, the jagged remains of an old tuff cone whose flanks are covered with seabirds before transferring to the airport for the flight to the Ecuador mainland and your continuing flight home.
Meals: B
End of our services.
Peru & Galapagos Tour 5 Adventure Honeymoon Itinerary Overview:
PRICES:

Please Contact Us Here
Credit Cards Welcome:



WHAT IS INCLUDED / NOT INCLUDED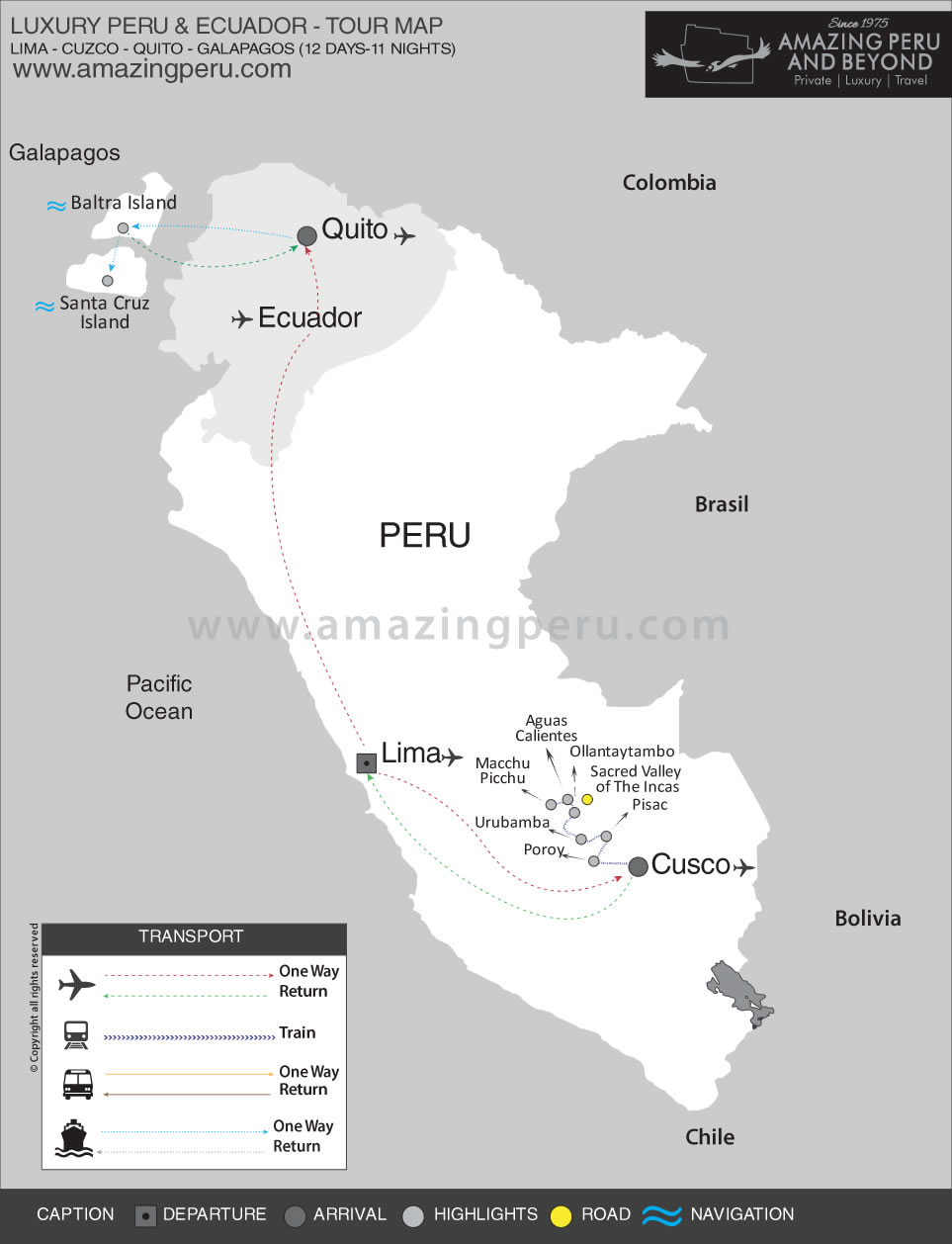 Peru & Galapagos Tour 5 Adventure Honeymoon
Lima - Cuzco - Machu Picchu - Urubamba - Ollantaytambo - Quito Galapagos Islands
13 days / 12 nights.
For current availability contact us at
info@amazingperu.com
and we will send you the relevant trip dossier along with a 90 day fixed quote, terms and conditions. Please bear in mind that significant price reductions are available for groups.
"Well-run multipurpose agency, with several offices in Peru with an extensive roster of trips, from family and honeymoon to luxury trips..."
Frommers Guides 2023
"Highly recommended, professional and well-organized, 'perfect tour', knowledgeable guides"
Footprint Handbook 2023
"Transportation services and accommodations are top-notch, and the guides are flexible and extremely helpful"
Fodor's Guides 2023
"
Amazing Peru
has more than 20 years of experience in the travel industry. Tours to Machu Picchu can be customized to include airfare, all meals, accommodations and travel insurance, and last from six to 14 days. Amazon cruises, horseback riding, river rafting, hiking and biking throughout Machu Picchu, Cuzco, Sacred Valley, Lake Titicaca..."
USA TODAY
"Move Over, Machu Picchu - How disabled travelers can tour Machu Picchu."
Christoper Reynolds
"Looking for an adventure of lifetime to kick-start married life? Consider these honeymoons with a difference… "
Perfect Wedding Magazine
"Experience"
Amazing Peru is the leading company in Latin America that combines exclusivity, luxury and authenticity for Peruvian holidays. It will tailor a 15- days tour for you that takes in Lake Titicaca, the Sacred Valley, Machu Picchu, Lima, Cuzco, Colca Canyon and the Amazon rainforest."
The Travel and Leisure Magazine UK
"A reputable firm with an impressive variety of unique excursions… "
At Home and Away with Alan Whicker CBE Magazine
Spend Christmas on a guided tour of breathtaking Machu Picchu and visit famous Lake Titicaca. Amazing Peru offers luxury Christmas vacations in Machu Picchu along the Inca Trail...
Trails Outdoor Travel Guide
"Amazing Peru takes families on both luxury and affordable tours throughout Peru. Children 12 and older are welcome to come along on the 12-day Peru Family Adventure Tour. Raft, backpack, kayak and bike through some of Peru's most unforgettable sights including Machu Picchu. The Family Tour to Peru is tailored for children younger than 12 years of age with an educational component. Relax on Peru's northern beaches, explore the high-altitude Lake Titicaca, trek through the Amazon, and visit Machu Picchu on this 16-day journey. Check out Amazing Peru's 12-day Family Tour."
Global Post USA
"
You can fly over Machu Picchu - or take a helicopter ride
Who needs hiking when you can fly? The company Amazing Peruoffers hour-long flight tours right over the Sacred Valley of the Incas. The plane fits a minimum of eight passengers, and it can also be chartered. Passengers fly over Tipon and Pikillaqta, both archaeological sites, Pisaq and the Urubamba Valley, Sacsayhuaman, and, of course, Machu Picchu itself. Flights can be longer or shorter as requested. "
"
You can Om your way through Machu Picchu
Machu Picchu is known as one of the most spiritual lands in the world, so why not go all out and Om your way through its ruins? Amazing Peru offers a seven-day yoga tour where visitors travel from Lima to Cuzco and finally to Machu Picchu, where they stay in the famed sanctuary Lodge hotel right outside of the ruins. They participate in multiple meditation and yoga sessions throughout the trip, but the highlight is a private session smack-dab in the middle of the ruins. Now that is an Om experience worth waiting for."
Yahoo Lifestyle
A Private, customized tour to Venezuela, Guyana, Suriname, French Guiana and Trinidad & Tobago. "Any traveler with a well-developed sense of adventure will be rewarded with an incredible experience on this journey to a birding paradise designed and operated by Amazing Peru."
"Savoring a taste of Uruguay's acclaimed wine region - An outstanding experience"